Happy Summer 2017!
(Pictured above: Adrian goes over parts for Red Spring with flautist Ron Korb)
It's been a busy few months here at Lucky 88 studios…
I was honoured to take home the award for Best Music – Sci-Fi/Fantasy for Plight! A Comic Book Rock Opera at the WAW's.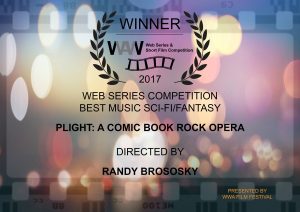 I recently completed work on the post-apocalyptic vampire thriller feature Red Spring, for which I got to write big, 80's inspired hypbrid-orchestral action cues.  I'm currently working on the hilarious mockumentary/horror mini series Extremely Haunted Hoarders, as well as a video game called for iOS, which has been a lot of quirky, whimsical fun.
After 8 amazing years, Out With Dad is wrapping up.  We celebrated in part by recording the cues for the last episodes with a 40 piece string orchestra, which we did remotely in Moscow with the Bow Tie Orchestra.  At the moment, the episodes of the final season are available only to Patrons of the series, but should be available widely soon.  I'll be writing more on the session and my journey with the show in another post.
On the ad front, a couple of spots I provided music for have played in theaters and online – one for Ripley's Aquarium called "The Getaway", where I got to get my island vibe on writing Rocksteady, and on a more serious note, a PSA for the TSSA on the dangers of carbon monoxide called "The Silent Killer", which was done as a horror film: